Martin Hubeňák, from the CO-LO podcast focused on logistics, recently came to Dextrum Fulfilment. He set himself the task of interviewing our CEO, Ivan Richtár and, with his help, of gaining a little more insight into robotic warehouses and fulfillment in general.
In the interview, you will get to see how long the road is from an "IT guy" to CEO, the role innovation plays in Ivan's life, and why he sees fulfillment as the future of most e-shops.
After introducing the head of our team, it was time to get better acquainted with the concept of fulfillment. You will find out what it is all about, how it is viewed abroad compared to here, and why Dextrum even has it in its name, and also its advantages and why it is worth investing in its innovation.
As they are specialists in robotic fulfillment, there is also a comparison with non-robotic fulfillment. To give you an idea, Mr. Richtár points out that one picker in a robotized warehouse can do the work of four to five pickers in a non-robotized warehouse, all thanks to robots and modern technology. However, if, like the presenter, you are wondering whether people should be worried about their jobs and whether we are facing a future of completely unmanned warehouses, you can keep calm – there are and will be activities that robots cannot do.
The podcast also looks at robots as such. You can find out what they need for their work, how much it costs to operate them, and how much they cost to buy. If you have a small or medium-sized e-shop, don't miss the description of the advantages and benefits for such enterprises. There is also a frank assessment of when fulfillment solutions are not worth it.
Are you interested in learning more about the latest technology and the future of logistics? Then take a "sneak peek" into the Dextrum Fulfillment warehouses with Martin and Ivan, and see the future through the eyes of our most competent innovator!
CO-LO: Ivan Richtár – Automation and robotics in warehouse logistics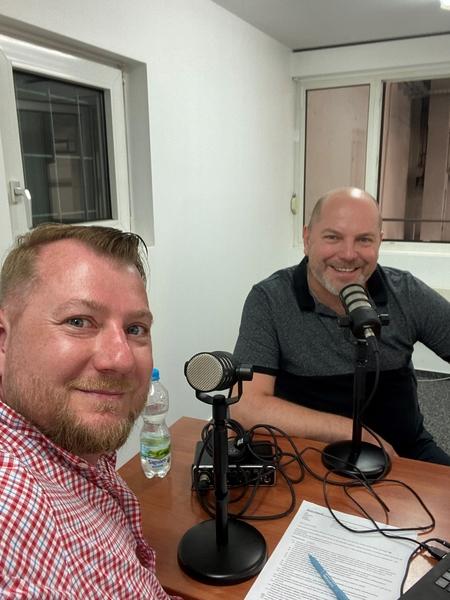 A conversation between Ivan and Martin about exactly for whom fulfillment services are the ideal choice and, conversely, when they do not make much sense. If you are wondering if your brand is ready for innovation in the form of our comprehensive logistics service, the answers are literally at your fingertips.
Questions/themes:
1. Let's start by briefly discussing just who Ivan Richtár is, and how his path led to his current position.
2. We will get on to what Dextrum Fulfillment is in a moment, but just before we do, I'd like to touch on the word "fulfillment" because, especially in this day and age of e-commerce, this word is being bandied around a lot and, from my point of view, it is becoming its own field in logistics. As the CEO of a company that has this word in its name, how do you see it?
3. Now, please tell us a bit more about what Dextrum Fulfillment is.
4. You are presenting your robots, or the robotization of warehouse logistics. How should we imagine such robotization, and how does this differentiate you from other fulfillment service providers?
5. Can you tell me the main differences between robotic and (non-)robotic fulfillment?
6. To what extent can your robots replace humans in such operations?
7. What happens if a robot goes out of service, or what are the risks in such an operation and how can you be prepared for them (what are the backup solutions)?
8. In your opinion, how big is the role of warehouse logistics for e-shops (small or large)?
9. How and where can we find the benefits of fulfillment?
10. I was wondering how e-shops can benefit from using robotic fulfillment services.
11. How can they make sure of these benefits before they decide to sign a contract with you?
12. When is the right time for e-shop owners or managers to even consider outsourcing the fulfillment process?
13. Who, on the other hand, should not consider this solution, or at what stage does it not make much sense?
14. How do you approach innovation in your field, and how innovative are you (try to give a specific example please)?
15. Why can fulfilment based on robots and automated technologies be the best?
16. Today, logistics as a whole is seeing and facing various and unexpected influences. What developments do you expect in e-commerce in the coming year?
17. Have you recently been surprised by anything that has fundamentally affected your business? Please give two answers: one bad effect and one good. Also, where appropriate, how did you feel about them, and what did they ultimately mean for you?
18. In your opinion, is logistics a field that should be more widely known and taught in schools?
19. What kind of people work at your company, and do you work with or nurture any students to become future logistics engineers?
20. From your perspective, what does logistics mean for business, and how should people view it?